Google Search Console (GSC) is a free service Google provides to website owners. It provides them with insight on how much Google search traffic they get, what pages are showing up in Google, and what they can do to optimize their website.
Since the Page Experience Update in 2021, Google has used the Core Web Vitals metrics as a ranking factor. This article will take a closer look at the Web Vitals data that's available in Google Search Console.
What is Google Search Console?​
GSC, formerly known as Webmaster Tools, provides verified website owners with a wide range of information:
How many clicks does my website get from Google?
What keywords does my website rank for?
How many pages are included in the Google index?
Is my website mobile friendly?
Does my website use a secure connection (HTTPS)?
How fast is my website?
This information allows website owners to make their website rank higher in Google, debug indexing and performance issues, and track their rankings over time.
Setting up your Search Console account​
As this information is only shown to website owners, you first need to sign up to GSC and verify your website.
1. Sign into Search Console​
Go to the Search Console homepage and click Start now.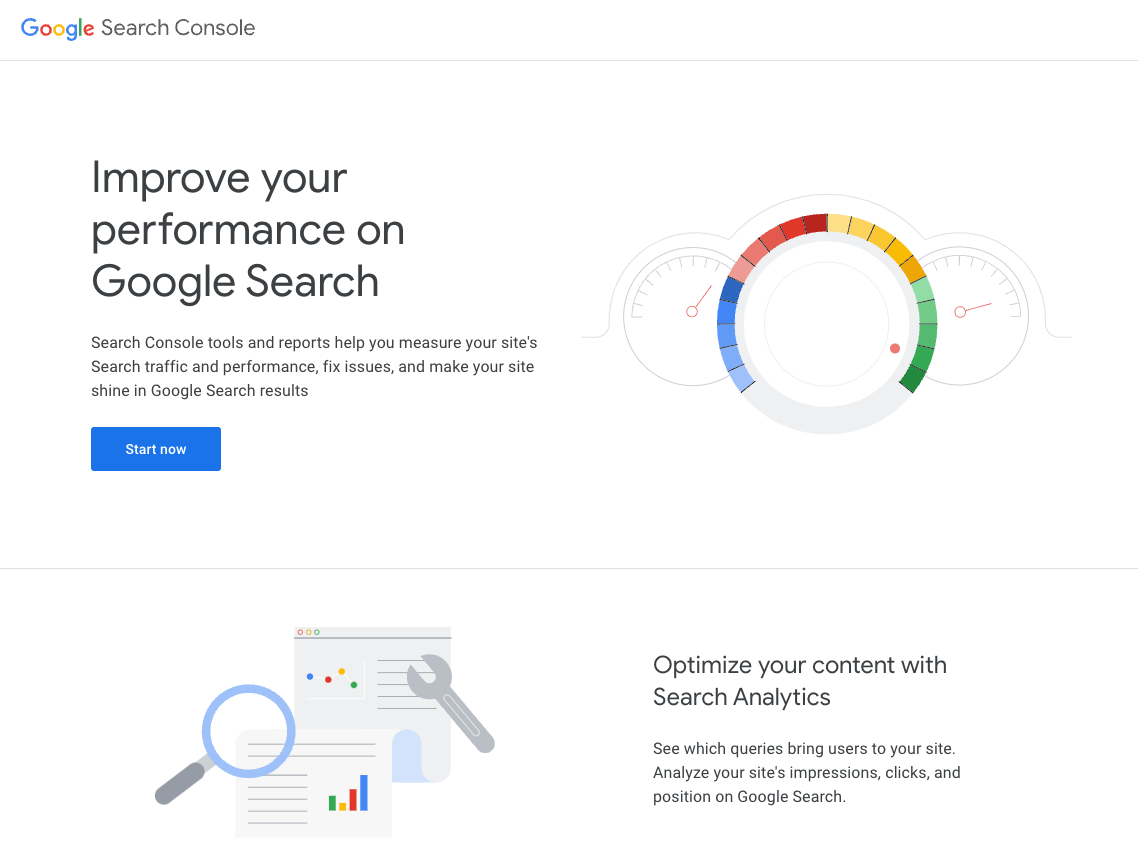 Then log into your Google account or create a new one.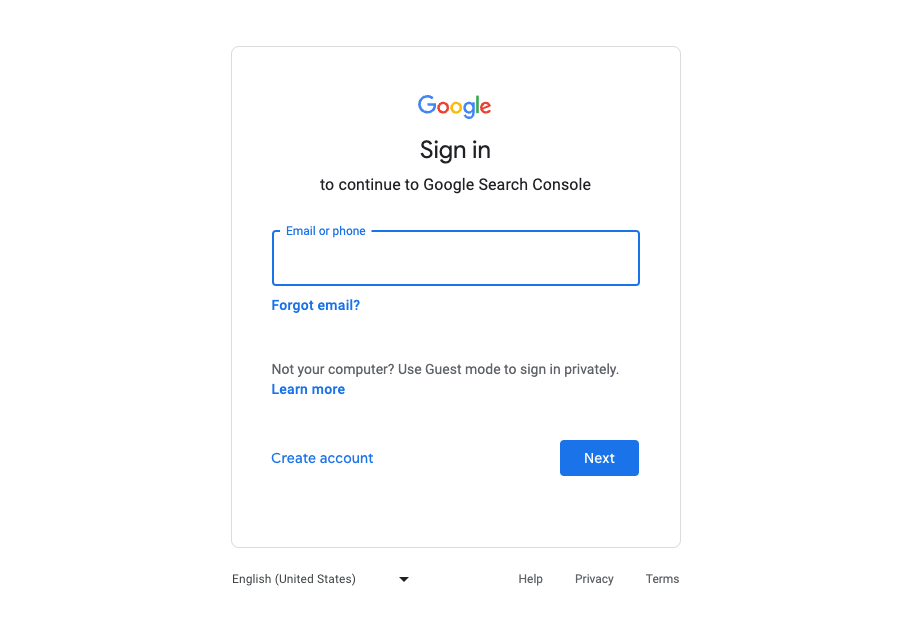 2. Verify your website​
GSC then asks you what website you want to verify. You have to options here:
Verify ownership of an entire domain including all subdomains
Verify ownership of a specific subdomain (or even a subpath of a subdomain)
Option 1 requires you to edit DNS records with your domain name provider, so option 2 is often easier.
For example, you can:
Add a meta tag to your homepage HTML
Use your existing verified Google Analytics or Google Tag Manager accounts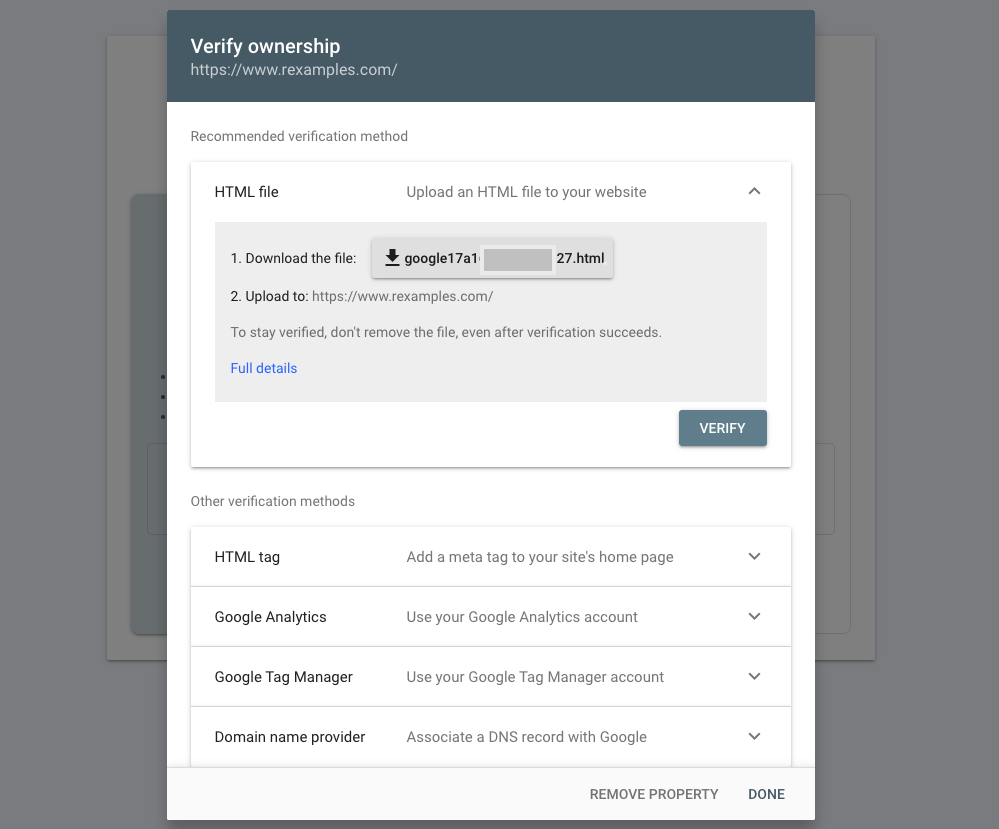 Once your website is verified you can see data about its search performance.
How to view Core Web Vitals data in Google Search Console​
Google collects Core Web Vitals as part of the Chrome User Experience Report and uses them as a ranking signal.
To see how your users experience your website, select the Core Web Vitals tab in the sidebar.
Google then shows you how many of your URLs it views as "Good", "Needs Improvement", or "Poor". The report is grouped into mobile and desktop experiences.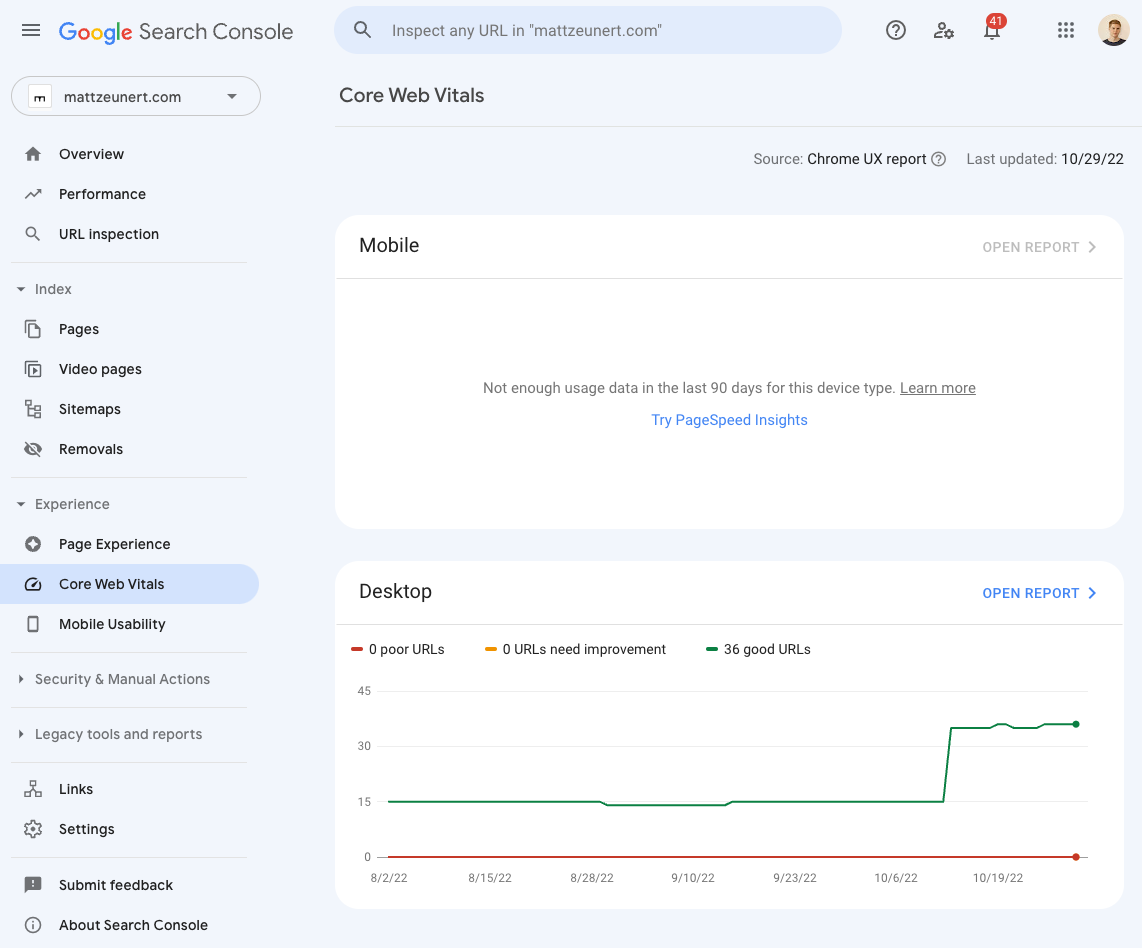 Click Open Report to see more details about Core Web Vitals on your website.
The bar chart shows you how many pages meet the Web Vitals thresholds, and how many you need to work on. By default only "Poor" experiences are shown, so click on the "Need improvement" and "Good" headers to see all data.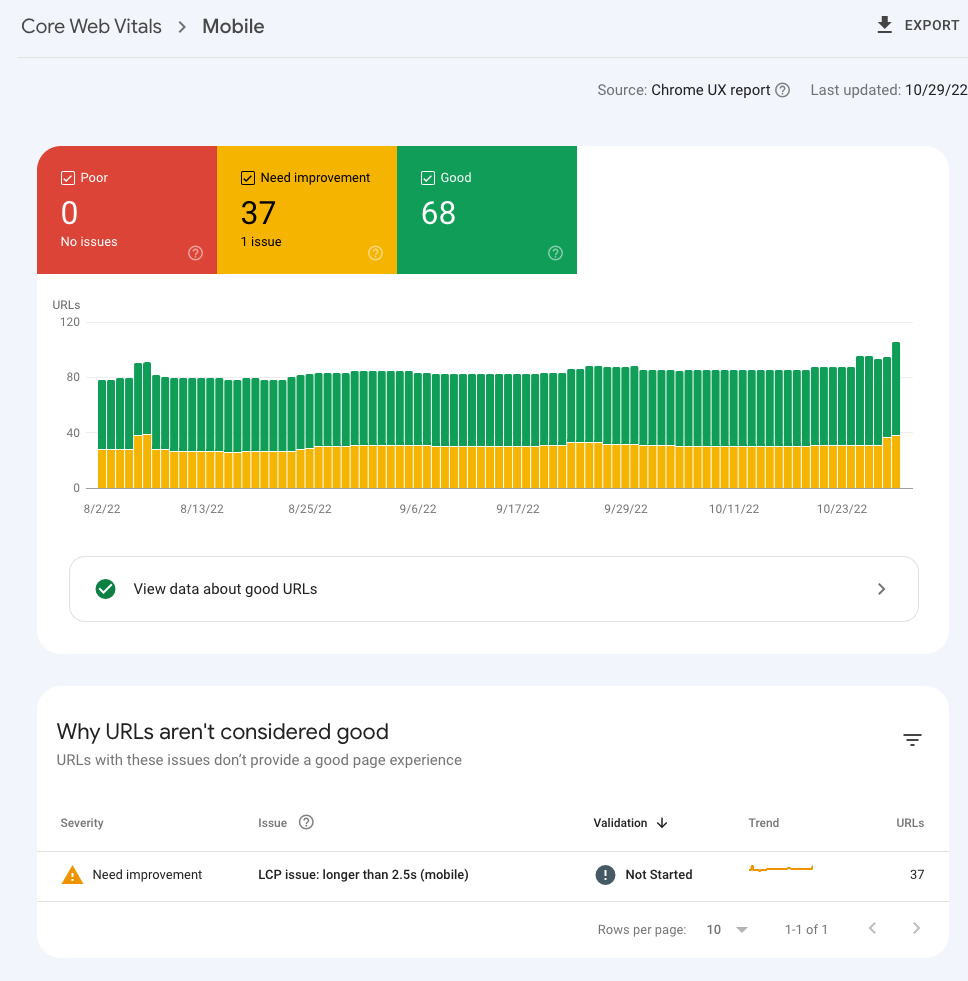 Under the chart there's a Why URLs aren't considered good section that tells on which of the three Core Web Vitals your website isn't doing well on:
For each issue you can also see the number of URLs that are affected in rankings.
How to view what website URLs have slow Core Web Vitals​
You can click on each of the web vitals issues in Google Search Console to see specific groups of pages that are impacted.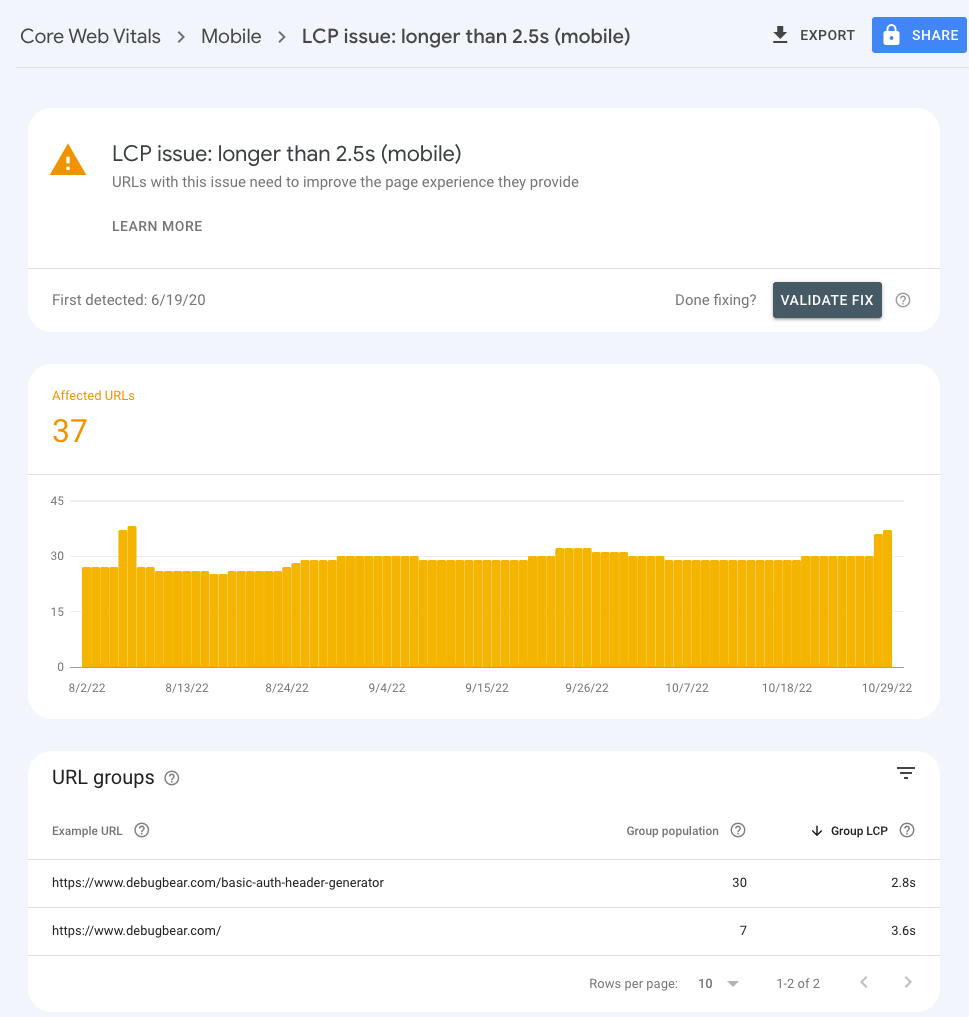 By default just one example URL is shown, but you can get a longer list of URLs in that group by clicking on the group.
What are URL groups?​
Google doesn't have enough data about every page on your website in order to assess its Core Web Vitals.
Therefore, URLs are put together into URL groups if Google thinks that the pages have a similar type. For example, if you have many product pages Google might group them together and they would share the web vitals ranking signal.
However, this process isn't perfect and sometimes fast pages might be grouped with slower pages. Being included in a slow group doesn't necessarily mean that a particular URL is slow.
Deciding what pages to optimize​
If your website gets a lot of traffic Search Console will show URL-specific data that you can use to decide what pages to optimize.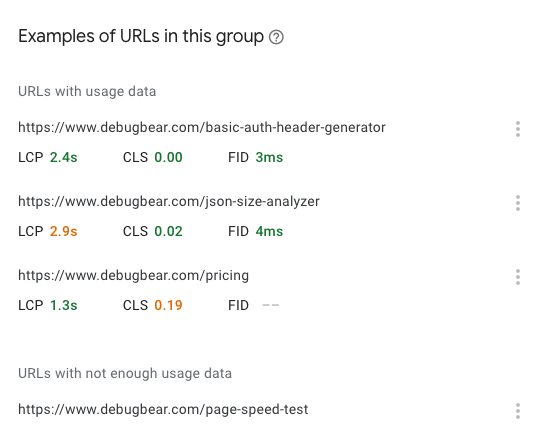 However, if you don't have URL-level data from real users, you need to test each URL in the lab. For example, you can use our free website speed test tool.
You can then focus your efforts on the slowest URLs, and those that get the most traffic.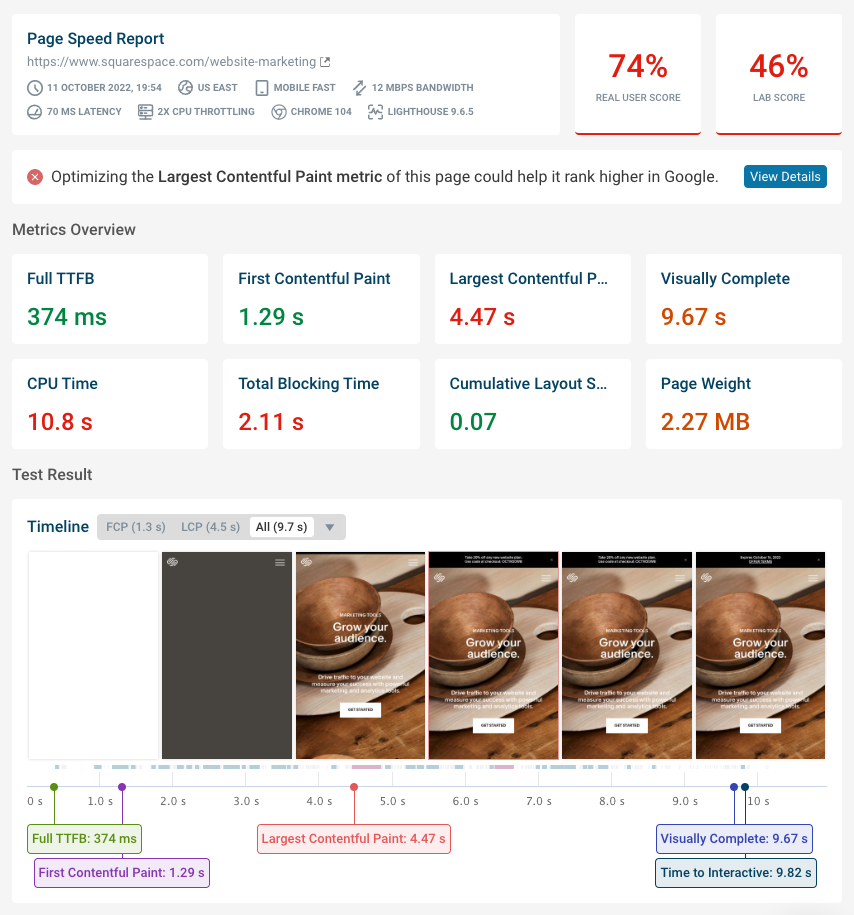 How to view Interaction to Next Paint in Google Search Console​
The the Interaction to Next Paint (INP) metric will replace First Input Delay in March 2024.
After opening the desktop or mobile report Google now shows a Prepare for changes coming in March 2024 section that provides details how your website does on the INP metric.

Monitoring Core Web Vitals​
Google Search Console will show a timeline of how many pages meet the "Good" Core Web Vitals thresholds. But this is based on data from the last 30 days, so it will take a while for the data to update. You also won't be able to track the values of specific metrics over time.
DebugBear can help you optimize your pages and keep them fast by monitoring your website over time. We run daily lab tests on mobile and desktop devices across 20+ locations. But we also keep track of the URL-level Core Web Vitals data by Google.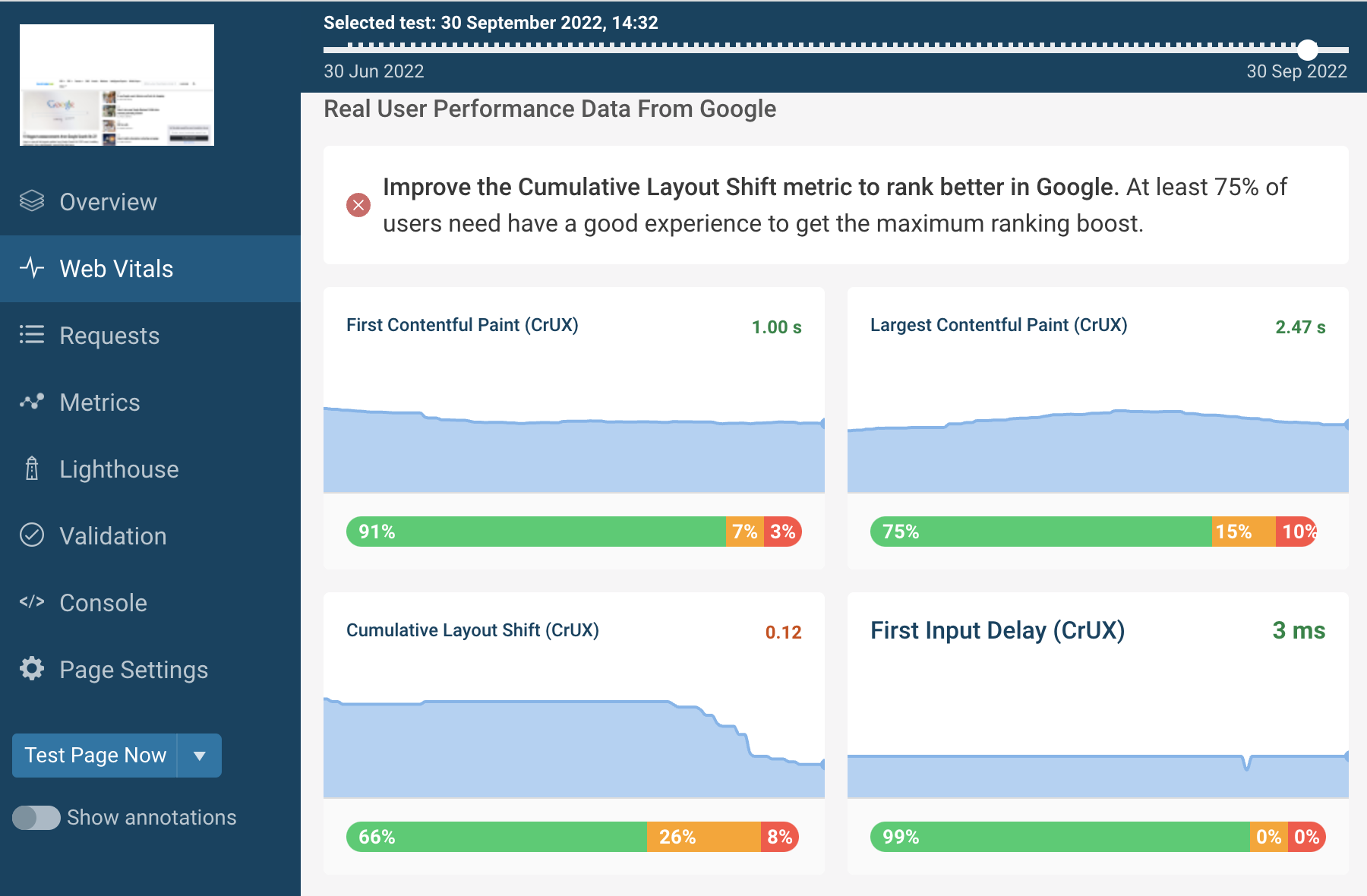 Or use our real-user monitoring feature to see how different visitors experiences your website.