How to buy a subscription​
Enter your Account settings and then the Subscription tab
Click Buy Subscription
Select the plan you want to buy and enter your company and billing details
EU companies will need to enter a VAT number during checkout.
How to buy addons​
Contact support to by additional projects or test quota.
How to change or cancel your subscription​
In the Account settings Subscription tab, select Manage Subscription
Click on your subscription
Select Edit Subscription or Cancel Subscription
You can see what's included with each plan on the pricing page.
When upgrading your subscription you will refunded for the remaining time on your current plan and then charged pro-rata for the new plan until the end of the current billing period.
For example, let's say you pay $50/mo and upgrade to $100/mo in the middle of the month. You get a $25 credit for the current plan and are then charged $50 for the new plan. So you make a $25 payment when upgrading and are then charged $100 per month.
Invoices​
Invoices will be sent out monthly, and you can also find them on the DebugBear website.
How to email invoices to your accounting department​
You can specify the email address where invoices are sent to in the Subscription tab.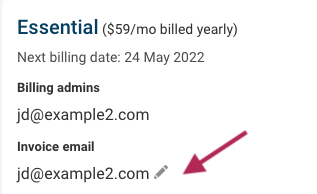 How to download your invoices​
You can find your invoices via the Subscription tab in your account settings.
Click Manage Subscription
Click Billing History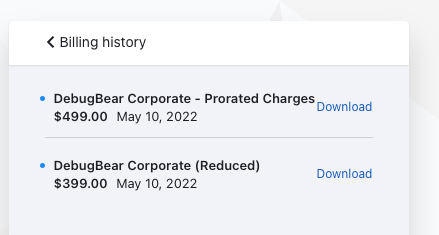 Can we pay by invoice / bank transfer?​
Card payment is the easiest and cheapest way to pay for DebugBear.
You can pay by bank transfer if you spend at least $4,000 on DebugBear. Note that the usual annual discount does not apply when paying by bank transfer.
Contact support if you would like to go with this option.