Testing Lighthouse scores and page performance in GitLab pipelines
This guide explains how to run DebugBear tests in CI using GitLab pipelines.
Prerequisites​
Before getting started makes sure that:
If you are not able to deploy your branch consider using ngrok and the --ngrokWebPort 4040 option of the DebugBear CLI.
Setting up the DEBUGBEAR_API_KEY environment variable​
Under Settings > CI/CD, scroll down to Variables and click Expand.

Set the variable key to DEBUGBEAR_API_KEY and enter the API key obtained from the Project API tab on the DebugBear website. Then click Add variable.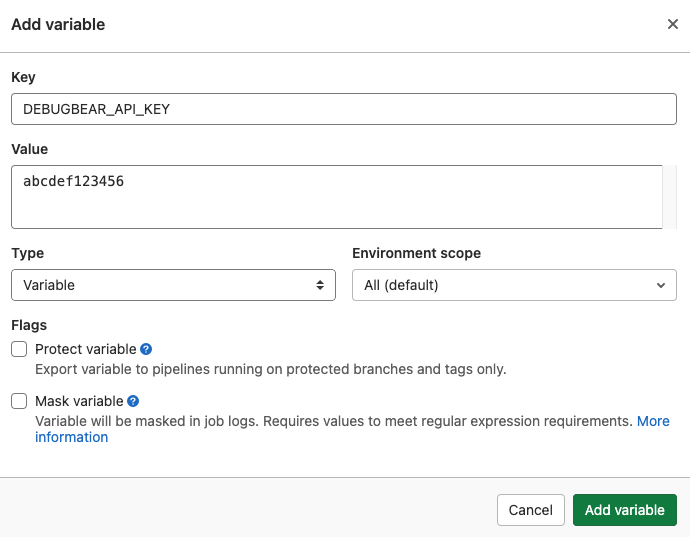 Running DebugBear in the pipeline​
Create a new pipeline or update your .gitlab-ci.yml file as follows. Replace the page ID and URL to match your project.
image: node:latest





debugbear:




  script:




    - npm install debugbear




    - >




      ./node_modules/.bin/debugbear




      --pageId=123




      --inferBuildInfo




      --waitForResult




      --baseBranch=main




      --fail




      https://my-branch.example.com/



This code assumes that your source code already contains an npm package. If that isn't the case you need to run npm init -y before running npm install debugbear.
The following options are passed to the DebugBear command-line interface:
pageId – Tells DebugBear which page in your project to test
inferBuildInfo – Pick up details like commit hash and message from the CI environment
waitForResult – Wait until the test is complete before exiting the CLI
fail – If the test status is failure then exit with a non-zero exit code, failing the pipeline
https://my-branch.example.com/ – override the default test URL with the URL where the current branch is deployed
Once the test is complete DebugBear will print a summary of changes compared to the base branch, or compared to the scheduled tests if no build exists on the branch.

Failing the build if a performance budget is exceeded​
By default all tests on DebugBear finish with a neutral status. Set up performance budgets to get success and failure statuses and fail the GitLab pipeline.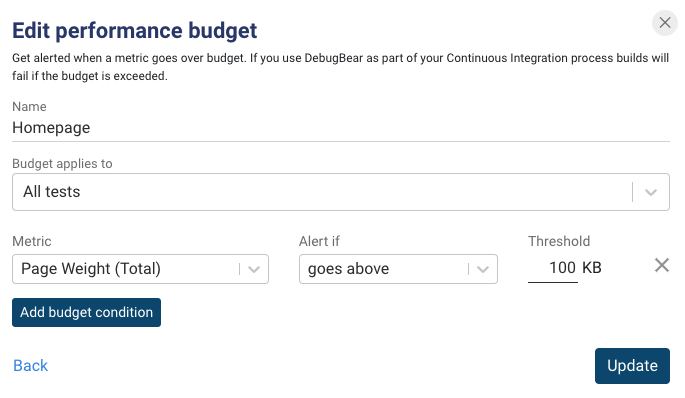 The GitLab pipeline will now fail if the budget is exceeded.