Performance Budgets
A web performance budget helps you avoid gradual performance regressions. It allows you to set limits on metrics related to your site performance.
If you set up a performance budget in DebugBear you'll get an alert when a page starts going over budget. You can also set up performance budgeting for your CI builds.

What metrics can you set a budget for?
Right now these metrics are supported:
Page weight (Total, JavaScript, CSS, Images)
Lighthouse scores (Performance, Best Practices, Accessibility, SEO)
We'll add more metrics in the future, if you want to set a budget for a specific metric please contact support.
How to set up a performance budget
When creating or editing a monitored page click Show Advanced and the expand the Performance Budgets section.

A page can have two budgets:
a budget for scheduled tests on production or staging
a budget for CI builds for a specific branch/commit
You can then create and edit a budget: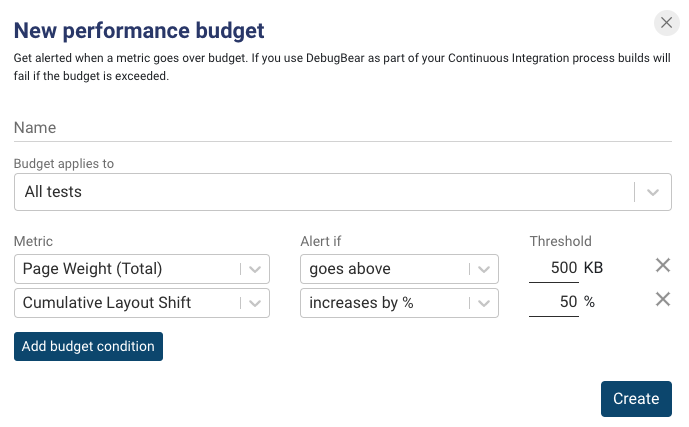 Impact on CI builds
If you've set up a budget for API/CLI builds then the builds will fail if the page goes over budget. If you've set up the Github integration the build will also fail on Github.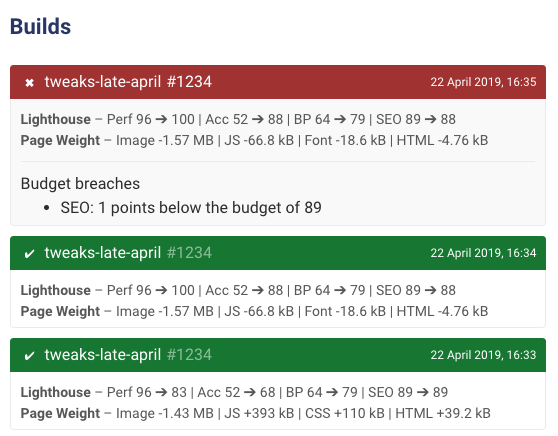 ---
DebugBear is a website monitoring tool built for front-end teams. Track performance metrics and Lighthouse scores in CI and production.
Learn more
.