Injecting Page Scripts
You can run JavaScript code snippets inside the tested page, either when the page first starts loading, or after the page has finished loading.
Some use cases:
Set a cookie that hides a GDPR notice
Click a "Save" button during a test, so that the save request is available when loading a page archive
How to set up script injection
You can either set up scripts to inject when creating a page, or later on by clicking "edit" when viewing the page results.
Edit the page
Click "Show advanced" and then expand the "Inject Scripts" section.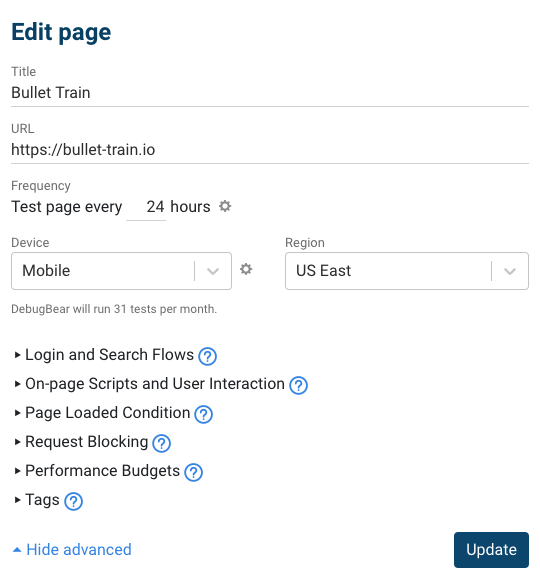 Select or create a script
There are two types of scripts.
Scripts that run before the page starts loading let you set preconditions or configuration for your page.

Scripts that run after the page finished loading allow you to script interactions that cause more data to be captured about your page. For example, you can use this to make sure certain requests are included in page archives.

When you create or edit a script you'll see a modal were you can enter your code snippet.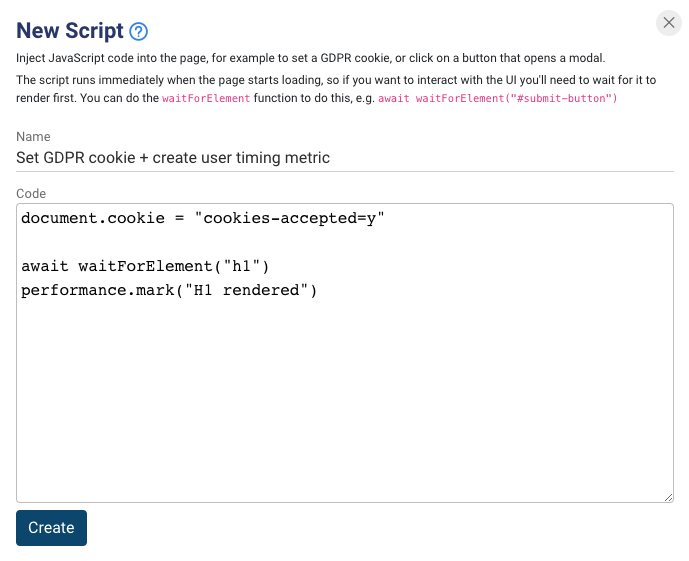 Save your page changes
After saving the script, click "Update" to save the page.
---
DebugBear is a website monitoring tool built for front-end developers. Track performance metrics and Lighthouse scores in CI and production.
Learn more
.